Early Land Owners Along the St. Vrain Creek, Colorado Territory, 1860-1861: An Annotated Index
Early Land Owners Along the St. Vrain River, Nebraska and Colorado Territories, 1858-1861: An Annotated Index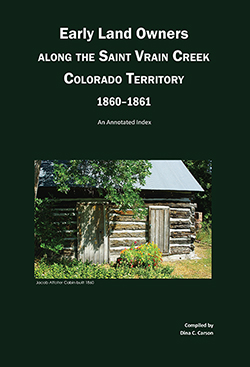 The Early Land Owners Along the St. Vrain Creek, Colorado Territory, 1860-1861 is comprised of the recorded land records from four different sources of the same area and time period.
Franklin Township Land Claims (along St Vrain Creek), 1860.
Troy District Land Claims (along St Vrain Creek), 1861
The St Vrain's Land Club's Land Claims, 1861
The St Vrain County Land Claims, 1858-1861
These original land club claims records are available for research in the Carnegie Branch Library for Historical Research in Boulder, Colorado and the archives of the Denver Public Library in Denver, Colorado.
The men and women in these claims were among the first to build cabins and begin farming and ranching in what is now Boulder and Weld Counties, Colorado.
ISBN 978-1-68224-006-9, $11.95 Softbound + $4.00 S&H