Denver, Colorado Police Force Record, 1879-1903: An Annotated Index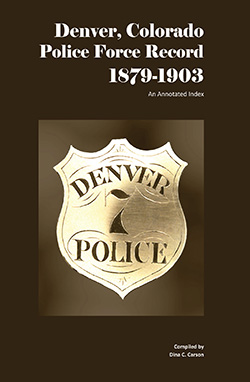 This index has been compiled from a register of Denver Police Department hires beginning in 1879 and ending in 1903. Officers were hired as patrolmen and officers, detectives, turnkeys (keepers of the keys at the jail), clerks, doctors and surgeons, jailers, bailiffs, herders and hostlers (who took care of the department's horses), drivers (who drove the ambulance and paddy wagon), operators (who took emergency calls once the city had telephones), and license inspectors. The Denver Police Department first hired a police matron in the 1880s and used special police, sometimes unpaid citizens, other times paid temps to keep the streets safe during city-wide celebrations.
The register includes the following information: the officer's name, the rank hired, the star or badge number assigned, where the officer was born, the officer's age at hire, the officer's former occupation, whether married or single, the number of people in the officer's household, the officer's address at hire, dates of appointment and discharge (cause, if given), equipment assigned (fire key, police key, small buttons, large buttons, club, belt, nippers, regulation book, locker), and remarks.
ISBN 978-1-879578-81-1
$11.95 Softbound + $4.00 S&H