Denver, Colorado Territory Wagon Sales & Repair Journal, 1867-1870: An Annotated Index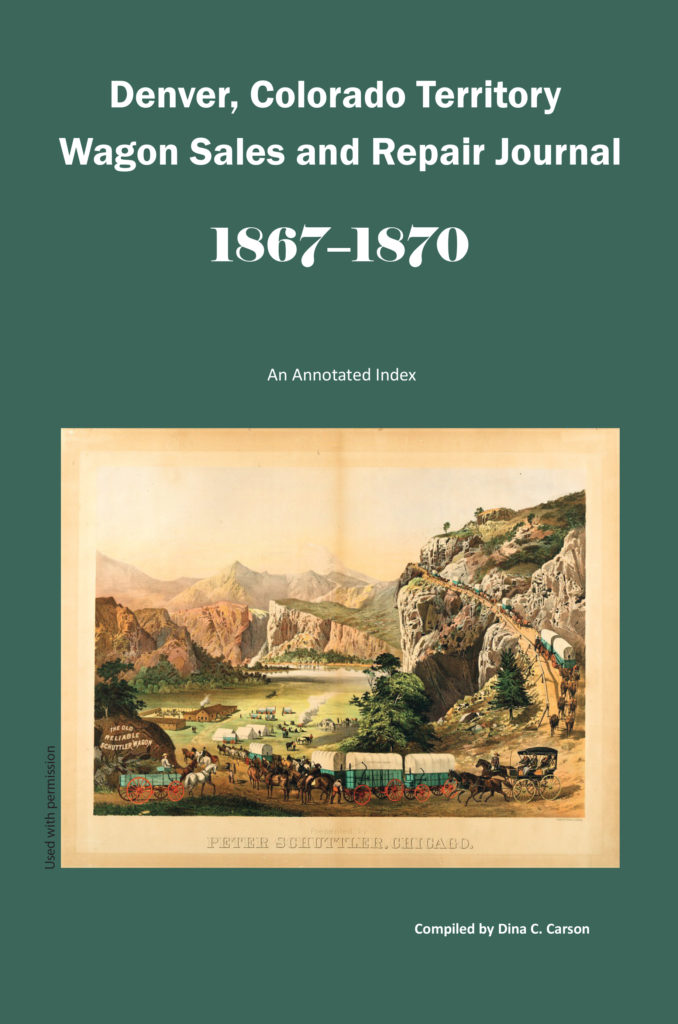 It appears that this merchant sold and repaired mostly Schuttler and Bain wagons that were brought in as far as they could by rail, most probably to the Cheyenne station, then driven to Denver by drayage companies. Among the items often repaired were yokes, rakes, tongues, boxes, bows, seatbacks and covers for the wagons.
The book includes accounts of a more personal nature as well, such as clothing he had on hand, including a fine black suit, a heavy beaver overcoat and a pair of Buffalo overshoes. Among the personal items he had on hand on 1 Jan 1868, were a watch and chain, gold and silver specimens, field glasses, Indian trinkets, a photograph album, four mountain scenes, an 8 inch Colt revolver and a pocket Derringer. On 31 December 1867, he subscribed to the Rocky Mountain News for $7.00, and lists his books, including a 2 Volume set of the Library of Mesmerism, Mines of Colorado, a Hand Book for Home Improvement, Esop's [sic] Fables, Mayhew's Book Keeping, a township map of Pennsylvania, and the History and Directory of Denver.
At some point, the book was given to most probably a daughter to use as a scrapbook of sorts, where she filled the first 30 or so pages with articles about homemaking, including a recipe for waterproof glue (adapted for Colorado), and advice such as that for "making sleeves of a different material for the dress as the effect is particularly good on women who are inclined to stoutness."
ISBN 978-1-68224-040-3
$12.95 + $4.00 S&H